EDIT 04/19/2021: The Ministry of Foreign Affairs strongly advises against travel to Pakistan and urges its citizens to leave the country quickly. Anti-French demonstrations are being held in the country in response to the republication of the Mohammed cartoons by the satirical newspaper Charlie Hebdo.
Were you worried when I told you about our trip to Pakistan? Many people still think of Pakistan as a place of Taliban, terrorists and wars. And yet, after two months of traveling in this country, not once did I feel unsafe. No, Pakistan is not dangerous. And even beyond that, Pakistanis are the ones who gave me the warmest welcome today. Let me tell you a little bit about it.
Meeting people in the streets of Pakistan
From the first hours in the country, people in the street greet us, stop to exchange a few words. These smiles and greetings will be the common thread of our trip in Pakistan. The questions are often the same. "Where are you from? What is your name? Do you like Pakistan and do you feel comfortable here?" And when we answer that yes, we feel great, a big smile lights up our interviewer's face. "Pakistan is not dangerous, but people are still afraid of it. Tell your family, tell your friends. We would so much like tourists to come back to Pakistan!"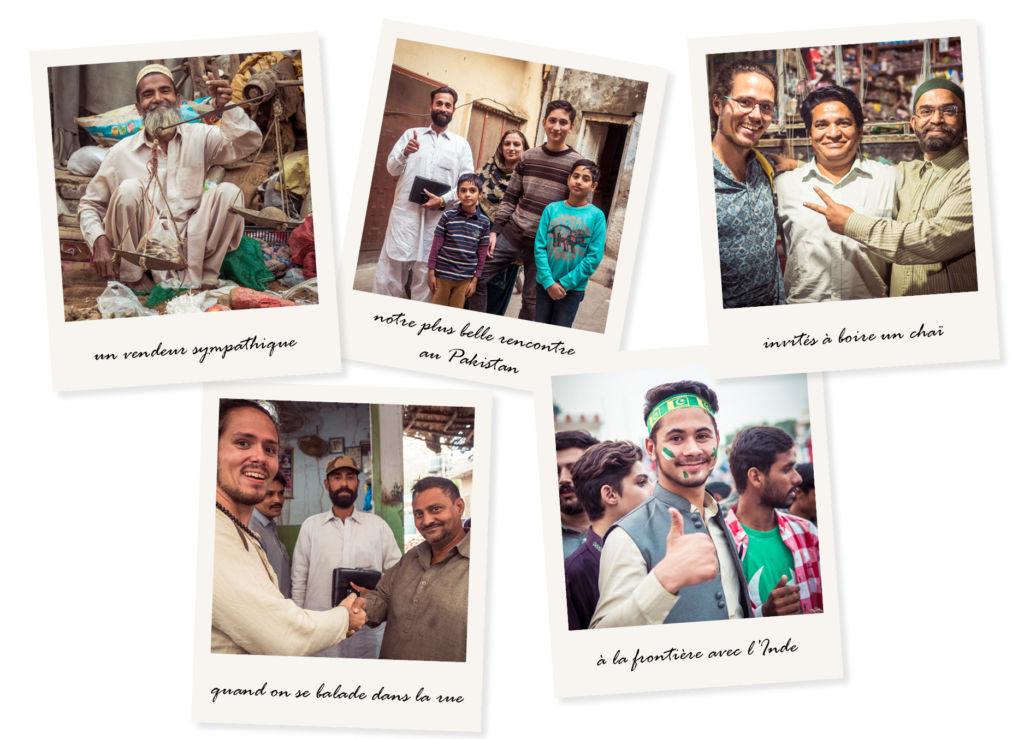 And then there are all those meetings where the absence of a common language does not allow us to exchange in this way but where we are offered a chai (tea), a bottle of soda (always in glass and returnable!), a fresh fruit juice, or just a warm smile. It's strange to feel that our simple presence here can bring so much joy. So yes, I want to share it, to tell you: you can travel to Pakistan and you will be welcomed with warmth, kindness and generosity.
Couchsurfing in Pakistan
In Pakistan, we mainly traveled with couchsurfing, this platform that allows to be hosted for free by locals who want to meet and exchange with travelers.
Our most beautiful travel memories were offered to us thanks to couchsurfing. Upon our arrival, a great couchsurfing party was organized by our host in Lahore allowing us to make friends in the country from the very first days. It was thanks to a meeting during this evening that we left with Tahir for a road trip in the wonderful mountains of Northern Pakistan. It is thanks to couchsurfing that we could go to the Derawar fort in the Cholistan desert or that I had a little surprise birthday party. But it's mostly thanks to couchsurfing that we met Shadid, Tahir, Miguel, Marieke, Moin, Gulbibi, Nani, Faisal, Fajar, Marius, Lars, Maroof, Guliafshan, Mira, Liam and many others! These are the encounters that made our trip so unique and wonderful. It is these encounters that we will keep as a souvenir of the country.
So if you travel to Pakistan, I can only encourage you to join the community.
Women in Pakistan
This is the question I am most often asked: could a solo female traveler travel to Pakistan? My answer is without hesitation: yes! Even if I don't travel alone myself, I was able to meet several female solo travelers who confirmed this intuition. And for my part, I felt safer than in India, for example, where some men can have insistent and inappropriate looks.
Also, wearing the veil is not compulsory unlike in Iran, for example. In the cities, many women do not wear it or only to go to the mosque. Only once in two months of travel, our couchsurfing host advised me to wear it. Indeed, we were in the Swat valley and traditions are much stricter there.
On the other hand, I must admit that I was often revolted by the situation of Pakistani women. Outside the big cities, they are almost absent from the streets, cafes and restaurants. You can see them in the bazaars, shopping. In some houses (quite rarely though), Leo was not allowed to meet the wife of our host who was cooking for us. If you ask me, tradition has a lot to say and feminists have a lot of work to do. I hope that the situation will improve quickly for all these women.
The forbidden areas
Finally, you should know that at the moment, we are not allowed to go anywhere in Pakistan as foreigners.
The region of Kashmir is forbidden to us. As you probably know, it is still disputed with India and now China. The Pakistani government wants peace and the political tensions are not felt in the rest of the country. But it is in all logic that its tourist activity is put in pause.
The region of Baluchistan is also forbidden to us because of local tensions between different communities. I really hope that the region will become more peaceful and open with time because it seems absolutely beautiful. It is still possible to cross it with a police escort to and from the land border with Iran. This is what many travelers we have met here have done and it has always gone very well.
---
So yes, today Pakistan is safe for the traveler and even for the single traveler. And it really deserves to be better known. Its landscapes are magnificent but what makes its unique beauty is the kindness of its inhabitants. So, dear Chapka, I hope that more and more travelers will tell you that this beautiful country is part of their travel itinerary.
Love to you.